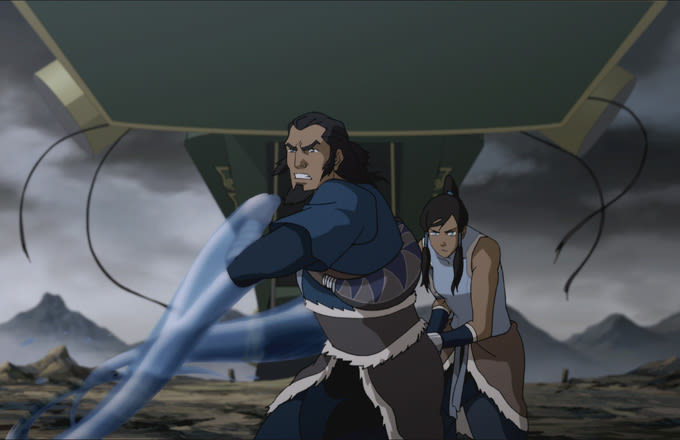 First things first.
All that I'm going to say about the Book 3 finale of the Legend of Korra is this.
It was
AWESOME
!!!!
It was very intense. It left some very interesting inquiries about the premise of Book 4 will be, including the aftershocks of the events that had taken place. The battles were all excellent, some of the best I've seen since
Avatar: The Last Airbender
.
There was some emotional drama and thrilling suspense, more than I expected. And don't get me started on the touching, and often quite epic (Yeah, I'm talking about Bolin's scene), moments from all the characters both heroic and villainous.
It was basically everything that a season finale should be. More or less, Book 3: Change was excellent! Oh, and the fact that
Zelda Williams
, the daughter of beloved and deceased actor/comedian
Robin Williams
, voices the character
Captain Kuvira
, whom I suspect will play a major role in Book 4 since they introduced her here, really brought a smile to my face.
All in all, this was an excellent season, despite a solemn, bitter-sweet ending that'll shock a lot of viewers to their core. Nonetheless, no fan of either
Avatar: The Last Airbender
or
The Legend of Korra
should miss out on this season.
You can watch all the episodes of
The Legend of Korra
-
Book 3: Change
on this site:
korraspirit.net/watch/
Now, let's us discuss something equally awesome.
As of
Hulk #5
, Gerry Duggan has taken the helm of the Hulk series. And his 10-12 issue
Omega Hulk
story is off to an epic, smashing start! We're introduced to a new, powerful, frightening, and extremely intelligent Hulk persona in the form of
Doc Green
... and he's on a mission!!!
Eliminate all Gamma Beings and Gamma Weapons.
And that includes dispatching/depowering the other Hulks: Skaar, Lyra, She-Hulk, Red She-Hulk, A-Bomb, and Red Hulk.
For more information, check out my review:
www.comicvine.com/hulk-5-the-o…
It would seem that conflict is inevitable.

Yep, definitely inevitable.
But I'm forgetting an equally entertaining comic series in the form of
Savage Hulk
. The first arch is written and drawn by
Alan Davis
. It's a must for any Hulk fan.
And be sure to check out the preview for next week's
Savage Hulk #3
!
www.comicbookresources.com/?pa…